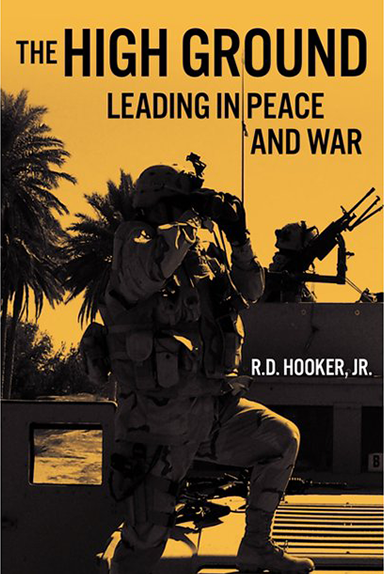 By R.D. Hooker, Jr.
The High Ground — Leading in Peace and War
Sale price
$19.99
Regular price
$24.95
By R. D. Hooker, Jr.
Softcover, 190 pp.
Copyright © 2023 Richard D. Hooker, Jr.
The High Ground draws on the author's personal experiences as a combat leader to illustrate examples of successful and inspiring leadership in military organizations at all levels. Many of the essays contained in this volume focus on specific military personalities that portray effective leader behaviors in both peacetime and combat settings from the tactical to the strategic. Others describe key leadership characteristics and attributes of successful leaders, from small-unit level to the Pentagon.

Throughout the author provides specific and compelling leadership advice and suggestions to new soldiers, new lieutenants, staff officers and commanders. The author served over thirty years in the post-Vietnam Army, rising from private to colonel and serving in the invasion of Grenada and in Somalia, the US response to the Rwandan genocide, in Bosnia and Kosovo, in peacekeeping operations in the Sinai, and in combat in Iraq and Afghanistan. He commanded a paratrooper company, battalion and brigade and served in the continental US, Latin America, Europe, the Middle East, Africa, and Southwest Asia.

The High Ground describes his observations and interactions with military leaders at all levels, in battle and in garrison, to describe and portray military leader development and leader excellence in all its many and varied dimensions. Gripping and fast-paced, these leadership vignettes will carry the reader from peacetime into battle with the American Soldier.
---
Share this Product
---
More from this collection