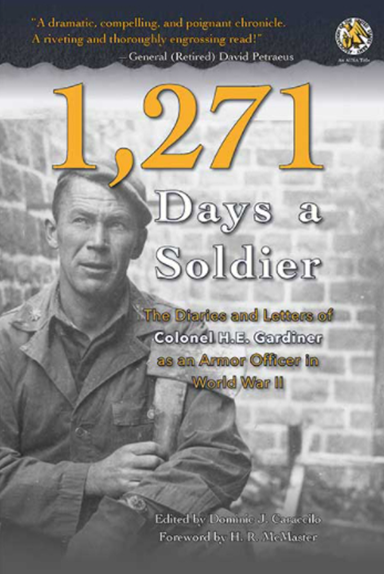 By H.E. Gardiner
1,271 Days a Soldier — The Diaries and Letters of Colonel H.E. Gardiner as an Armor Officer in World War II
Sale price
$16.99
Regular price
$24.99
Edited by Dominic J. Caraccilo
Forward by H.R. McMaster
University of North Georgia University Press
Copyright 2021 Dominic J. Caraccilo
Paperback, 560 pp. 338 pages

1,271 Days a Soldier: The Diaries and Letters of Colonel H. E. Gardiner as an Armor Officer in World War II is one soldier's record of the Second World War. Henry E. Gardiner's collection recalls the first-hand experiences of an operational level ranking officer from the prelude of war to fighting in the African and European theaters, from the shock of the initial volley of violence during the December 7, 1941, Day of Infamy radio broadcast to the final days of the war while operating on the soft underbelly of Hitler's Europe. 1,271 Days a Soldier is written with all the emotion of someone who endured nearly four years of high-intensity conflict coupled with long periods of boredom and interjected with periods of frivolity.
Detailed footnotes, photographs, and maps throughout the diary provide context for each journal entry so readers and historians gain a better appreciation of the full spectrum of war that was unfolding at any given time in the work.
1,271 Days a Soldier is an official AUSA Book Program title.

---
Share this Product
---
More from this collection