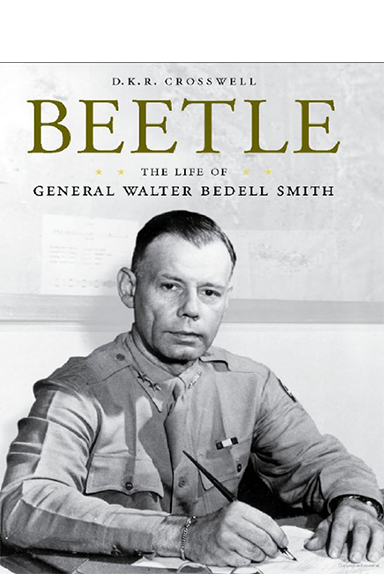 By D.K.R. Crosswell
Beetle: The Life of General Walter Bedell Smith (American Warrior Series)
Sale price
$25.00
Regular price
$50.00
D. K. R. Crosswell
Hardcover, 1070 pp., 2010
A valued adviser and trusted insider in the highest echelon of U.S. military and political leaders, General Walter Bedell Smith began his public service career of more than forty years at age sixteen, when he joined the Indiana National Guard. His bulldog tenacity earned him an opportunity to work with General George C. Marshall in 1941, playing an essential role in forming the offices of the Combined and Joint Chiefs of Staff; and after his appointment as chief of staff to Dwight D. Eisenhower in 1942, Smith took a central part in planning and orchestrating the major Allied operations of World War II in Europe. Among his many duties, Smith negotiated and signed the surrenders of the Italian and German armed forces on May 7, 1945.
Smith's postwar career included service as the U.S. ambassador to the Soviet Union, director of the Central Intelligence Agency, and undersecretary of state. Despite his contributions to twentieth-century American military and diplomatic history, the life and work of Smith have largely gone unappreciated. In Beetle: The Life of General Walter Bedell Smith, D. K. R. Crosswell offers the first full-length biography of the general, including insights into his close relationships with Marshall and Eisenhower.
Meticulously researched and long overdue, Beetle sheds new light on Eisenhower as supreme commander and the campaigns in North Africa, Italy, and Europe. Beetle is the fascinating history of a soldier, diplomat, and intelligence chief who played a central role in many decisions that altered mid-twentieth-century American history.
---
Share this Product
---
More from this collection