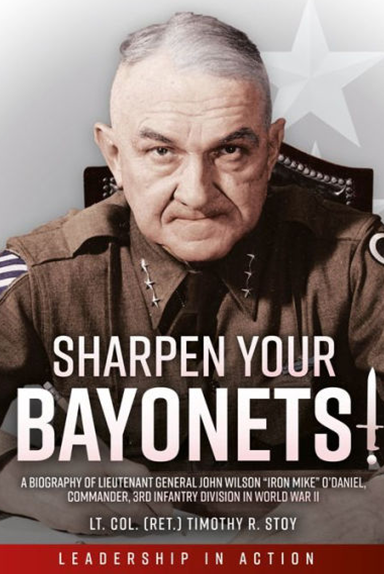 By Lt. Col. (Ret) Timothy R. Stoy
Sharpen Your Bayonets!
Sale price
$29.95
Regular price
$37.95
Hardcover, 286 pp.
Copyright 2022, Lieutenant Colonel Timothy R. Stoy
An AUSA Book
John Wilson "Iron Mike" O'Daniel was one of the U.S. Army's great fighting generals of the 20th century. He began his military career with the Delaware Militia in 1914, served on the Mexican border in 1916, received a Distinguished Service Cross in World War I, was Mark Clark's man for hard jobs in the early days of World War II, and commanded the storied 3rd Infantry Division from Anzio to the end of the war in Europe, ending the war in Salzburg after liberating Munich, and Hitler's Berghof and Eagle's Nest on the Obersalzberg, Bavaria, Germany. "Iron Mike "commanded I Corps in Korea 1951–1952 and ended his career as the Chief of the Military Assistance Advisory Group in Vietnam in the early days of American involvement there.
LTC Stoy paints a vivid picture of this great American warrior who played an important role in World War II, became an ardent anti-Communist crusader after duty in Moscow as Military Attaché 1948–1950 as the Cold War intensified, laid the foundation for the Army of the Republic of Vietnam, and remained an ardent supporter of President Ngo Dinh Diem while serving as Chairman of the American Friends of Vietnam from his retirement in 1956 until 1963, shortly before Diem's assassination.

---
Share this Product
---
More from this collection