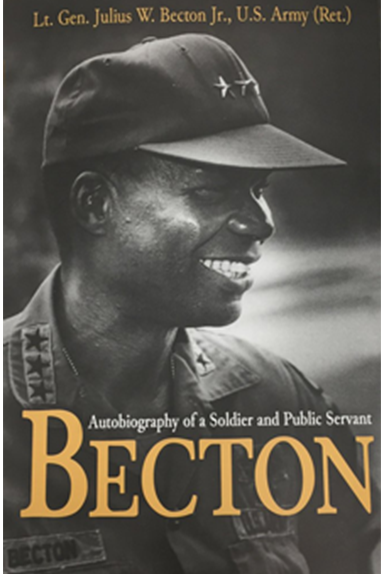 By Lt. Gen. Julius W. Becton, Jr.
Becton: Autobiography of a Soldier and Public Servant
Sale price
$16.98
Regular price
$33.95
Lt. Gen. Julius W. Becton Jr.
Hardcover, 269 pp., 2016
This autobiography highlights Lieutenant General Becton's remarkable career, reflects on his youth, his almost forty years of service in the U.S. Army, and his subsequent civilian appointments. Devotion to leadership, education, service, race, and his spiritual upbringing are all central themes in the book.
Becton enlisted in a segregated Army at age eighteen and rose to the rank of lieutenant general over the course of nearly four decades. After receiving his commission as a second lieutenant of infantry, he subsequently fought with distinction in the Korean War. Integrated into the Regular Army in 1951, he went on to earn degrees in mathematics and economics and held combat commands in the 101st Airborne Division in Vietnam and the legendary 1st Cavalry Division in 1975–76. Promoted to lieutenant general in 1978, he served as commanding general of the U.S. VII Corps in Germany and deputy commander of Training and Doctrine Command and the Army Inspector of Training before retiring in 1983.
Following retirement, he entered fields of international disaster assistance, emergency management, and education.
In 2007 Becton was selected to receive the George Catlett Marshall Medal, the highest award presented by the AUSA for being a "soldier, combat commander, administrator, educator, public servant, government leader, and role model."
---
Share this Product
---
More from this collection