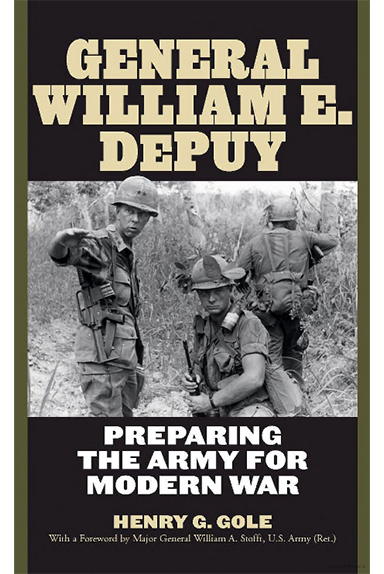 By Henry G. Gale
General William E. DePuy: Preparing the Army for Modern War (American Warriors Series)
Sale price
$20.00
Regular price
$40.00
Hardcover, 408 pp., 2008
From the late 1960s to the late 1970s, the United States Army was a demoralized institution in a country in the midst of a social revolution. The war in Vietnam had gone badly and public attitudes about it shifted from indifference, to acceptance, to protest. Army Chief of Staff General Creighton Abrams directed a major reorganization of the Army and appointed William E. DePuy (1919–1992) commander of the newly established Training and Doctrine Command (TRADOC), in 1973. DePuy already had a distinguished record in positions of trust and high responsibility: successful infantry battalion command and division G-3 in World War II by the age of twenty-five; Assistant Military Attaché in Hungary; detail to CIA in the Korean War; alternating tours on the Army Staff and in command of troops. As a general officer he was General Westmoreland's operations officer in Saigon; commander of the 1st Infantry Division in Vietnam; Special Assistant to the Chairman, Joint Chiefs of Staff; and Assistant Vice Chief of Staff, Army. But it was as TRADOC Commander that DePuy made his major contribution in integrating training, doctrine, combat developments, and management in the U.S. Army. He regenerated a deflated post-Vietnam Army, effectively cultivating a military force prepared to fight and win in modern war.
General William E. DePuy: Preparing the Army for Modern War is the first full-length biography of this key figure in the history of the U.S. Army in the twentieth century. Author Henry G. Gole mined secondary and primary sources, including DePuy's personal papers and extensive archival material, and he interviewed peers, subordinates, family members, and close observers to describe and analyze DePuy's unique contributions to the Army and nation. Gole guides the reader from DePuy's boyhood and college days in South Dakota through the major events and achievements of his life.
DePuy was commissioned from the ROTC six months before the attack on Pearl Harbor, witnessed poor training and leadership in a mobilizing Army, and served in the 357th Infantry Regiment in Europe ― from the bloody fighting in Normandy until victory in May 1945, when DePuy was stationed in Czechoslovakia. Gole covers both major events and interesting asides: DePuy was asked by George Patton to serve as his aide; he supervised clandestine operations in China; he served in the Office of the Army Chief of Staff during the debate over "massive retaliation" vs. "flexible response"; he was instrumental in establishing Special Forces in Vietnam; he briefed President Lyndon B. Johnson in the White House. DePuy fixed a broken Army. In the process his intensity and forcefulness made him a contentious figure, admired by some and feared by others. He lived long enough to see his efforts produce American victory in the Gulf War of 1991. In General William E. DePuy, Gole presents the accomplishments of this important military figure and explores how he helped shape the most potent military force in the history of the world.


---
Share this Product
---
More from this collection