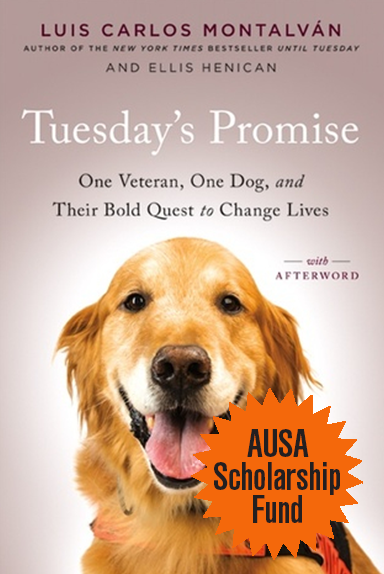 By Luis Carlos Montalvan
Tuesday's Promise — One Veteran, One Dog, and Their Bold Quest to Change Lives
Paperback, 294 pp
Copyright 2018, 2017 by Luis Carlos Montalvan
Proceeds from this book sale go towards the AUSA Scholarship Fund
Luis and Tuesday are winning hearts again. With his captivating New York Times bestseller Until Tuesday, Iraq War veteran Luis Carlos Montalván furthered America's conversation about the need to care for first responders suffering from the effects of PTSD, especially highlighting the near-miraculous benefit of service dog companionship.
Now, in this spectacular follow-up, Luis and Tuesday rescue a forgotten Tuskegee airman, battle obstinate VA bureaucrats and bring solace for troubled war heroes coast-to-coast. All this, while Luis' personal battle intensifies; while Tuesday has helped him make immense mental strides, the chronic pain of his injuries threaten to leave him wheelchair-bound. In a grave decision, Luis opts to amputate his leg, and learn how to live with a prosthetic.
As Luis regains his athleticism, 10-year-old Tuesday enters new phase in life; due to his growing age he will soon need to retire. Together, these two friends begin the tender process of welcoming a new puppy into their pack. SINCE TUESDAY is an inspiring story with an unforgettable message about love, service, and teamwork.
---
Share this Product
---
More from this collection