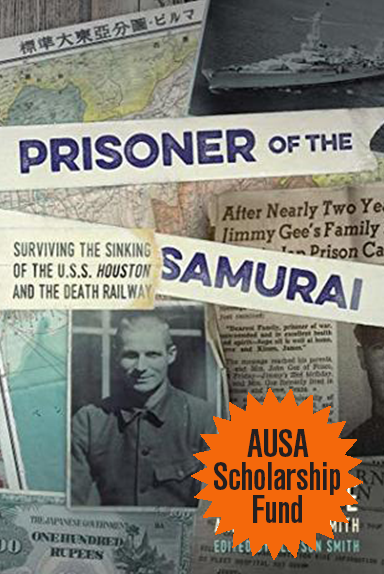 By James Gee, Rosalie H. Smith, Allyson Smith
Prisoner Of The Samurai
Hardback, 224 pp
Copyright Casemate Publishers, Rosalie Smith, Allyson Smith
Proceeds from this book sale go towards the AUSA Scholarship Fund
Courage on the River Kwai — the inspiring true story of one marine's resilience in a World War II POW camp following the Battle of the Sunda Strait.
Two months after the bombing of Pearl Harbor, between the islands of Java and Sumatra, the naval cruiser USS Houston sank after taking four torpedo hits by Imperial Japanese warships. Among the survivors clinging to makeshift rafts was James Gee, PFC, USMC. Rescued by the enemy, Gee was transferred to Rangoon and subjected to hard labor in the construction of the Burma Railway. Here on the muddy banks of the River Kwai, thousands of allied prisoners succumbed to the harsh conditions. Again, Gee survived. But the worst was yet to come. A fresh hell awaited 2,700 miles away: a Japanese POW camp where the young marine would remain until the end of the war.
This is the remarkable memoir of one man's three-year ordeal amid the direst conditions imaginable — and how the compassion and companionship of his fellow allies strengthened his resolve, and turned desperation into an unbeatable will to make it back home alive.
---
Share this Product
---
More from this collection