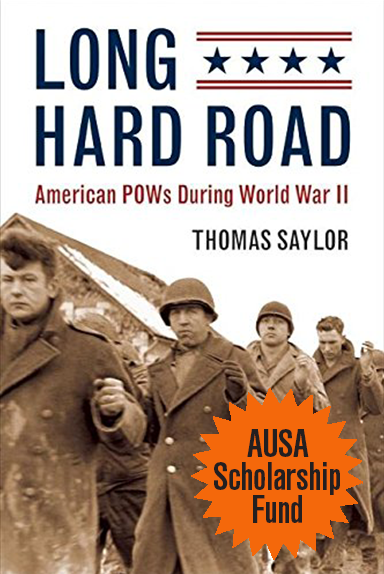 By Thomas Saylor
Long Hard Road — American POWs During World War II
Hardcover, 296 pp
Copyright © 2007 by the Minnesota Historical Society.

Proceeds from this book sale go towards the AUSA Scholarship Fund
Between 1941 and 1945 more than 110,000 American marines, soldiers, airmen, and sailors were taken prisoner by German, Italian, and Japanese forces. Most who fought overseas during World War II weren't prepared for capture, or for the life-altering experiences of incarceration, torture, and camaraderie bred of hardship that followed. Their harrowing story—often overlooked in Greatest Generation narratives—is told here by the POWs themselves.
Long hours of inactivity followed by moments of sheer terror. Slave labor, death marches, the infamous hell ships. Historian Thomas Saylor pieces together the stories of nearly one hundred World War II POWs to explore what it was like to be the "guest" of the Axis Powers and to reveal how these men managed to survive. Gunner Bob Michelsen bailed out of his wounded B-29 near Tokyo, only to endure days of interrogation and beatings and months as a "special prisoner" in a tiny cell home to seventeen other Americans. Medic Richard Ritchie spent long moments of terror locked with dozens of others in an unmarked boxcar that was repeatedly strafed by Allied forces. In the closing chapter to this moving narrative, the men speak of their difficult transition to life back home, where many sought—not always successfully—to put their experience behind them.
---
Share this Product
---
More from this collection