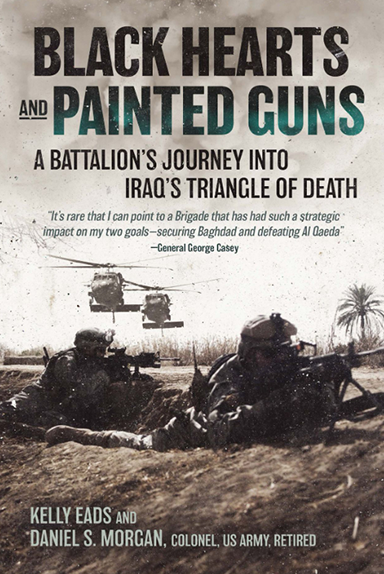 By Kelly Eads and Daniel S. Morgan, Colonel, US Army, Retired
Black Hearts and Painted Guns — A Battalion's Journey Into Iraq's Triangle of Death
Sale price
$27.95
Regular price
$34.95
AN AUSA BOOK
By Kelly Eads and Daniel S. Morgan, Colonel, US Army RetiredCopyright 2023
Hardcover, 160 pp.
Kelly Eads joined the 101st Airborne Division soon after 9/11, his experience reflecting the patriotism and commitment of so many young men and women who responded to the attack. He deployed to Iraq twice with the 2nd Battalion, 502nd Infantry Regiment.
Early in their deployment to Iraq, the 2nd Battalion brought the fight directly to the enemy by setting up patrol bases in the local areas where they lived and operated. Soon they built a reputation for themselves, becoming known to the enemy as the Black Hearts—The 502nd had been distinguished on the battlefield by black hearts on their helmets since World War II. Their Scout Platoon became known as Painted Guns due to their practice of camouflaging their rifles.
During Eads' deployments, the battalion would experience thousands of Improvised Explosive Devices and firefights. They would spend countless hours in blistering 120-degree desert heat, controlling roads and preventing enemy freedom of movement; and would dedicate months to hunting enemy mortar teams and terror cells.
With the help of Dan Morgan, an Infantry officer who deployed multiple times to Iraq and Afghanistan as a commander and operations officer, Eads takes the reader on a rollercoaster of combat experiences during the hunt for the most violent terrorist in Iraq, Abū Muṣʻab Zarqāwī, bringing to life the painstaking and horrid details of combat in a sectarian war. He tells the story of the soldiers' camaraderie, built through adversity, and the love of family that sustained them.

---
Share this Product
---
More from this collection