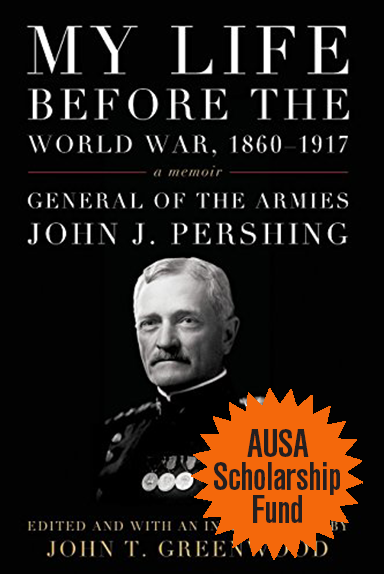 By John T. Greenwood
My Life Before The World War, 1860-1917 — a memoir — General of the Armies John J. Pershing
Hardcover, 727 pp
Copyright 2013 by the Association of the United States Army

University Press of Kentucky
Proceeds from this book sale go towards the AUSA Scholarship Fund
Few American military figures are more revered than General John J. "Black Jack" Pershing (1860–1948), who is most famous for leading the American Expeditionary Forces in World War I. The only soldier besides George Washington to be promoted to the highest rank in the U.S. Army (General of the Armies), Pershing was a mentor to the generation of generals who led America's forces during the Second World War.
Though Pershing published a two-volume memoir, My Experiences in the World War, and has been the subject of numerous biographies, few know that he spent many years drafting a memoir of his experiences prior to the First World War. In My Life Before the World War, 1860–1917, John T. Greenwood rescues this vital resource from obscurity, making Pershing's valuable insights into key events in history widely available for the first time.
Pershing performed frontier duty against the Apaches and Sioux from 1886–1891, fought in Cuba in 1898, served three tours of duty in the Philippines, and was an observer with the Japanese Army in 1905 during the Russo-Japanese War. He also commanded the Mexican Punitive Expedition to capture Pancho Villa in 1916–1917. My Life Before the World Warprovides a rich personal account of events, people, and places as told by an observer at the center of the action. Carefully edited and annotated, this memoir is a significant contribution to our understanding of a legendary American soldier and the historic events in which he participated.
---
Share this Product
---
More from this collection