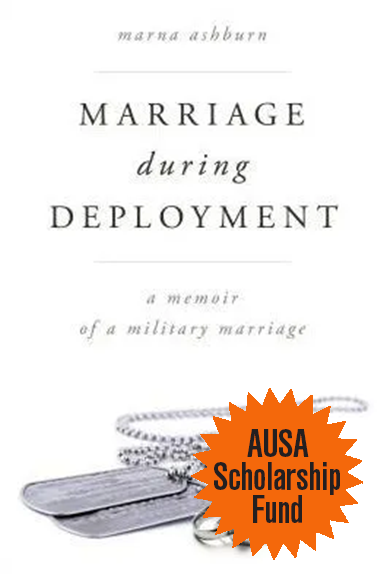 By Marna Ashburn
Marriage During Deployment — A Memoir of a Military Marriage
Hardcover, 149 pp
Copyright © 2017 by Rowman & Littlefield

Proceeds from this book sale go towards the AUSA Scholarship Fund
Since combat operations began in October 2001, more than 2.1 million U.S service members have been deployed to Iraq and Afghanistan, and over half of them were married. Marriage During Deployment, a memoir about a military family during wartime deployment, offers a window into the homelife and emotional world of a military family during deployment.
During her husband's Army deployment to Afghanistan, Marna Ashburn shows the mother handling everything – teaching the child to drive, attending little league games and school events solo, fixing broken dishwashers and cars, and celebrating holidays without dad. Marriage During Deployment depicts how the children and mother cope during the absence of their military member and how they stay connected to him while he is six thousand miles away from them.
But while families try to stay connected during deployment, it can certainly be tough on them, and even tougher on the relationship. The truth is that geographical distance allows habits and coping mechanisms to fall away, revealing some long-ignored issues. In the end, Marriage During Deployment becomes a meditation on marriage, relationships, and identity, prompting the reader to question whether the couple can survive the life-changing year of deployment.
The accumulation of missed moments inevitably creates a distance which may prove irreparable. Between the heartbreaking send-offs and the joyful reunions, there's this – a year of separation, distance, challenges, anxiety, and loneliness. While providing you with an honest portrayal of resilient kids and a can-do military wife, Marna Ashburn also reveals the hidden costs of Army service.
---
Share this Product
---
More from this collection