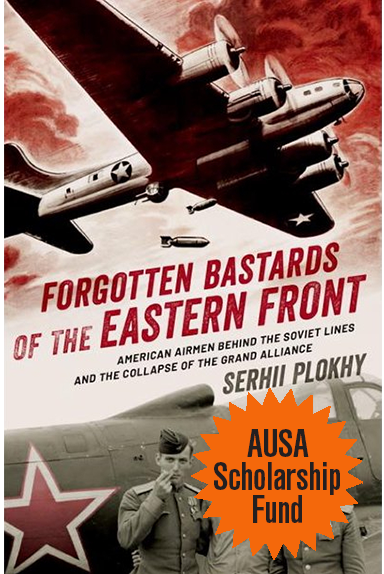 By Ken Small
Forgotten Bastards Of The Eastern Front — American Airmen Behind The Soviet Lines and The Collapse Of The Grand Alliance
Hardcover, 340 pp
Copyright 2019 Serhii Plokhy
Proceeds from this book sale go towards the AUSA Scholarship Fund
When the idea of placing American airbases on Soviet territory was broached at the summit of the Big Three — Churchill, Stalin, and Roosevelt — convened in Teheran in November 1943, Stalin Balked. Though aligned with the West in the fight against the Nazis, and pushing hard for the British and Americans to establish a second front, Stalin was suspicious to the point of paranoia of Westerners, whom he viewed as spies and conterrevolutionaries.
Despite this, and believing that they could break through the facade of Soviet intransigence and strengthen the Grand Alliance, Western strategists and diplomats continued to push the idea. Putting American planes and soldiers in the Soviet Union would create a second air front, permitting more effective bombing operations that those being conducted from Great Britain and Italy. In the end, Stalin relented, and three US Strategic Air Force bases were founded in the Poltava region of what is today Ukraine in April 1944. B-17 Flying Fortresses were flown from bases in Italy. Bombing operations codenamed Baseball and then Frantic — were initiated.
As Plokhy's utterly immersive and original book reveals, what happened on these American airbases mirrored the fate of the Grand Alliance itself. While both sides were fighting for Germany's unconditional surrender, Red Army counterintelligence and Soviet secret policeman watched over the American, shadowing every move and eventually trying to prevent fraternization between airmen and local women. Fights broke out. After an air raid by the Germans — so catastrophic that one distraught American compared it to Pearl Harbor — exposed the limitations of Soviet air defenses,m relations soured and the operations went south. The bases were pared back and marginalized, and those who remained behind until the war's end felt forgotten. Drawing on previously inaccessible KGB archives Forgotten Bastard of the Eastern Front offers a fuller account than any to date of the airbases, and in the process gives a new account of the Grand Alliance and its eventual disintegration, as presaged by the fissures that first appeared in Poltava. This is not diplomatic history on some grand scale, but a forensically detailed and fascinating reenactment of the first and only time American and Soviet soldiers fought side by side in World War II.
---
Share this Product
---
More from this collection