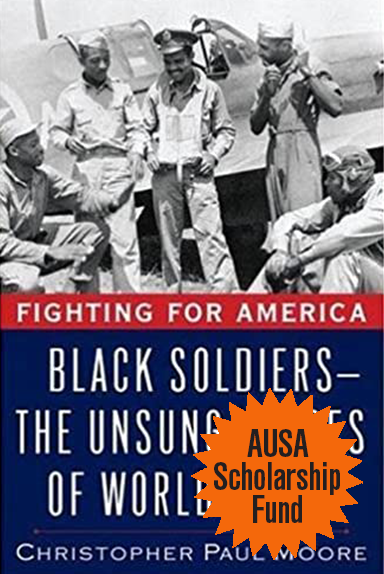 By Christopher Paul Moore
Fighting For America — Black Soldiers — The Unsung Heroes of World War II
By Christopher Paul Moore
Softcover, 367 Pages
Copyright 2005 by Christopher Paul
Proceeds from this book sale go towards the AUSA Scholarship Fund
The African-American contribution to winning World War II has never been celebrated as profoundly as in Fighting for America. In this inspirational and uniquely personal tribute, the essential part played by black servicemen and -women in that cataclysmic conflict is brought home.
Here are letters, photographs, oral histories, and rare documents, collected by historian Christopher Moore, the son of two black WWII veterans. Weaving his family history with that of his people and nation, Moore has created an unforgettable tapestry of sacrifice, fortitude, and courage. From the 1,800 black soldiers who landed at Normandy Beach on D-Day, and the legendary Tuskegee Airmen who won ninety-five Distinguished Flying Crosses, to the 761st Tank Battalion who, under General Patton, helped liberate Nazi death camps, the invaluable effort of black Americans to defend democracy is captured in word and image.
Readers will be introduced to many unheralded heroes who helped America win the war, including Dorie Miller, the messman who manned a machine gun and downed four Japanese planes; Robert Brooks, the first American to die in armored battle; Lt. Jackie Robinson, the future baseball legend who faced court-martial for refusing to sit in the back of a military bus; an until now forgotten African-American philosopher who helped save many lives at a Japanese POW camp; even the author's own parents: his mother, Kay, a WAC when she met his father, Bill, who was part of the celebrated Red Ball Express.
Yet Fighting for America is more than a testimonial; it is also a troubling story of profound contradictions, of a country still in the throes of segregation, of a domestic battleground where arrests and riots occurred simultaneously with foreign service–and of how the war helped spotlight this disparity and galvanize the need for civil rights. Featuring a unique perspective on black soldiers, Fighting for America will move any reader: all who, like the author, owe their lives to those who served.
---
Share this Product
---
More from this collection