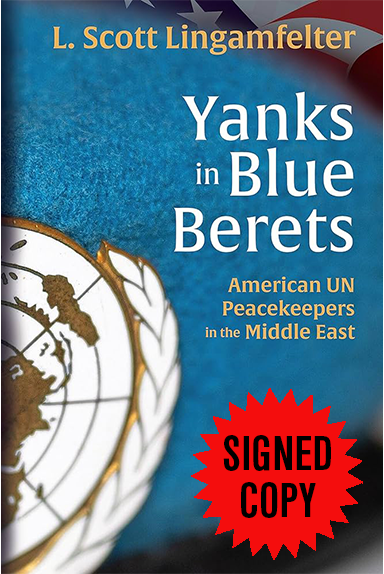 By L. Scott Lingamfelter
Yanks in Blue Berets: American UN Peacekeepers in the Middle East
Copyright July 2023, University Press of Kentucky
Hardcover, 320 pp.
In 1948 the United Nations launched the United Nations Truce Supervision Organization following the conflict that erupted between Israel and its Arab neighbors, who profoundly opposed the creation of a Jewish state. UNTSO quickly found itself overseeing the ceasefire lines between combatant parties.
In the ensuing decades, as countries along the eastern Mediterranean engaged in a series of escalating military conflicts, UNTSO was continually challenged in its peacekeeping mission, often having to alter its configuration. Matters came to a head in 1982, when Israel invaded Lebanon for a second time, calling into question the efficacy of UN peacekeeping operations and US support for them.
In Yanks in Blue Berets: American UN Peacekeepers in the Middle East, retired US Army colonel and former UN military observer L. Scott Lingamfelter chronicles the role of the US military in UN Middle East peacekeeping operations. Framed by his personal experiences, the book examines the difficulties faced by UN forces wedged between warring sides with limited trust in their authority as well as the challenging dichotomy of a soldier trained for combat yet immersed in unarmed peacekeeping. Yanks in Blue Berets is a "boots on the ground" perspective of the building Arab-Israeli tensions and geopolitics preceding the 1982 invasion of Lebanon.
---
Share this Product
---
More from this collection